Direct Mail Postcard Printing
Get the Full Color Quality & RESULTS Your Business Deserves!
Some printers do a fantastic job, but take a long time to process your order. Others are cheap, and their printing and paper quality reflect that. ONLY PostcardMania creates your campaign based on proven results AND gets you the best price and quality!
Watch this 46-second video before making a buying decision anywhere: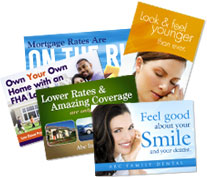 Find out why 66,706 companies all over the nation trust PostcardMania to print over 4 million postcards each and every week.
Custom full color postcard printing
High quality, 14-point card stock
Super Glossy, UV lamination Included
Quick 3-Day Turnaround Time Available
We handle everything for you!
RESULTS-based Marketing Advice, FREE!
Fortune Fundraising

Calls started immediately and are continuing at a brisk pace. We consider this to be our most successful marketing effort of the year.
Stanvik Properties

Everyone was helpful; information was communicated clearly and promptly.
Finger Lakes Wine Country

The only issue I ran into was not getting responses in a timely manner. I would send emails and leave messages to various reps and typically wouldn't hear back until the next day. Everyone was very friendly and helpful, but it was sometimes frustrating when I wanted some answers.
Tom Beaton, Beaton Accounting

Victoria is the best. Really helping me grow my business. The foundation is being laid for solid growth. Thanks to Victoria and all her co-workers!
Karen Seiger, Markets of New York City

Someone told me that you always had great offers. So I thought I'd give you a try. I am now a repeat customer.
Elsa Martinez, Golden Optometric

Yes. We have always had great service. The follow up is wonderful and your prices can't be beat! Our appointment book is full for 2 weeks out!
Kellie Zachary, Jim Carver & Sons

I think everyone that I've dealt with at PostcardMania has been very helpful, polite, and really on top of their game! Thank you for the outstanding customer service!
Susanne Harding, Perry Hall Christian School

I had no idea how to use a direct mailing campaign, and Victoria stepped me through the whole process very efficiently.
Gary Ruwet, McInerney Financial Group

Excellent product. I can get postcards from a number of companies. But your staff - from Kate all the way through the process to shipping - are the best.
K. U., Climate Master Mechanical Contractors Inc

I think you do a great job! Everyone is very helpful and friendly. Keep it up and we look forward to working with you again in the fall!
Trinity Catholic Academy

I was really impressed with the whole process, it was painless and easy. All of the people that I worked with from your company were very helpful and patient! We will use you again.
T. R., Delta Cooling Towers

Order took longer than expected.
Brian Brunckhorst, Advantage Laundry, Inc.

When I purchased my newset store in 2009, the business performance was trending downward, grossing $11K a month. One year later, after I remodeled and signed up with Postcard Mania, business doubled. YES, doubled. Here we are in 2012, celebrating our 3rd year, the specials I offer via Postcard Mania brought me even more customers, thus an even better gross revenue, now over $25K a month! I believe in Postcard Mania and will continue to use them! Brian Brunckhorst President, Advantage Laundry, Inc. www.advantagelaundry.com
J. C., Family Dental Office

It's the second best way we're getting patients next to word of mouth.
Ron Harris, Shlars.com

Holly was great, as were the receptionists who always seemed to know who it was that was calling and even whom I was calling.
Ernie Wiese, Essential Foods Processing Co.

Andrew was very knowledgable and accomodating.It was a very hectic time for us as we were opening a new processing plant. He worked with my crazy schedule and was always very understanding. He is a great guy!
Ted Hanayij, Physician Services USA

Great customer service from Erica Switzer and Josh Gould. They always make sure that the customers' needs are met above and beyond all expectations.
Mary Haldman, Hampton Inn & Suites

We initially chose PostcardMania because my general manager had heard really good things about the company.
Lisa Evenson, Liberty Christian Academy

We have already started mailing our cards, and the response so far has met our expectations.
Corrine Markey, Professional Bail Agents of the United States

Kate went the extra mile for us and Derrick and his team are awesome.
Ken Jones, Clear Summit Realty

We initially chose PostcardMania because they are very people friendly and they have good pricing.
Postcards 4/1, 14pt Full color, Super Glossy
Quantity
2,500
5,000
10,000
15,000
20,000+
Standard 4.25" x 6"
$289
$329
$599
Call for Volume Pricing
Jumbo 6" x 8.5"
$588
$649
$1150
Call for Volume Pricing
Colossal 6" x 11"
$789
$875
$1525
Call for Volume Pricing
Custom Size
Call

1-800-628-1804
Full color 1 side. Back is black and white.
Postcards 4/4, 14pt Full color, Super Glossy
Quantity
2,500
5,000
10,000
15,000
20,000+
Standard 4.25" x 6"
$329
$369
$679
Call for Volume Pricing
Jumbo 6" x 8.5"
$639
$698
$1250
Call for Volume Pricing
Colossal 6" x 11"
$829
$956
$1692
Call for Volume Pricing
Custom Size
Call

1-800-628-1804
Full color both sides.
Give us a call for the best price on your campaign!
1-800-628-1804