DirectMail2.0
Integrate Google with your Mailing for Better Results!
Think of direct mail as a knife. It is extremely effective at its one job. (In direct mail's case, that is generating leads.) Think of DirectMail2.0 as a robot Swiss Army Knife that handles a knife's job, and all kinds of other jobs – without you needing to lift a finger.
Now imagine the robot Swiss Army Knife and the regular knife are similarly priced…
Watch this 1:30 video before planning a Direct Mail Campaign:
Still not completely clear? Watch this 4:36 video explaining it in more detail.
Overview
Direct Mail 2.0® includes four features in one package. Old-school direct mail only operates on one. Direct Mail 2.0 is a seamlessly integrated system that maximizes your marketing impact. Instead of just sending out a direct mailing, Direct Mail 2.0® consists of Direct Mail, Mail Tracking, Online Follow-up Ads, and Call Tracking. Here's how it all fits together:
Step 1: Your Mail Pieces Are Sent

Direct mail pieces are mailed to your target market. This tried and true marketing medium produces results by delivering your artfully designed and clearly written marketing message right to your prospect's mailbox.

Step 2: Mail Pieces Are Tracked

Using a cutting edge barcode technology system we designed ourselves, we track the mailing process of your order. You can log in anytime to know exactly when your cards are due to arrive, so you can plan for the influx of new customers.

Step 3: Automatic Online Follow-up through Google

Every prospect who visits your website following your direct mail campaign is funneled into an automatic follow-up system. Through our partnership with Google, text and image ads matching your direct mail piece follow your website visitors around the internet after they leave your site. So if prospects don't take the desired action (fill out a form, buy, etc.) on your website the first time, you stay in front of them until they do. No leads left behind. (Dentists and other practices check out DirectMail2.0 New Patient Edition)

Step 4: Phone Call Tracking

We use a unique phone number to track the number of calls your mailing generates. You can use this data to gauge the effectiveness of different strategies and marketing messages. It also records calls so you can check for quality in your lead reception and sales processes.
Complete Commercial

I just want to say that you and Postcard Mania are The BEST! Thanks again and may you have a great weekend as well
Custom Merchant Services LLC

Thank you Michele! I appreciate you and the team's willingness to help us get our mailer out! Its truly been a great process. I definitely will use you for future projects. I will refer business to you as well. You take care of that new addition and again..Congrats
It was nice talking to you last week. And thank you for your help. We have had a positive experience working with your company, and we are looking forward to doing business again soon, and hopefuly regularly.
Lisa, Berry Oaks Pharmacy

"You guys are awesome!"
Bill Bailey, Bill Bailey For Congress

Thank you again for all your patience and help. I really appreciate it. With my opponent having $2M, and me not 1/20th of that, when we win, it will have been because the 50,000 postcards you made and mailed for us were directed at the targeted 50,000 voters who made the difference
Tammy Blackburn, Family Network on Disabilities

Everything is perfect. We're very pleased with the design, the PostcardMania employees are great to work with!
Daniel Victor, Rapid Care Transcription (P) Ltd

Honest, friendly, persistent..supported by an excellent team...totally reliable!
Thomas Nagy, Vivid Infusion

We have partnered with Postcard Mania for several years now and I could not be more pleased with their support of our business. Each and every customer is managed and processed with the exact same dedication and commitment to ensure everything is correct! I commend Postcard Mania for making sure their customers are taken care of and I look forward to doing business with PCM for many years to come! Exemplary customer service and wold-class printing is a very appreciated combination for our firm as well as our valued clients!
Dave Parkerson, Right Away Auto Credit

Everyone I spoke to was very eager to help me get the job done and in a very friendly and professional manner - Keep it up!
Misha Mendicino, Misha Mendicino Designer Resort Wear

I am delighted about the customer service so far, but what really matters is the ROI. I surely hope that this go around I will have some results from my direct mail campaign. Being a small business owner is really tough, watching every penny and never wanting to make a costly mistake. In moving forward I am hoping that I chose the correct marketing team to assist me in growing my business. Again, thank you Melissa for the introduction, I will keep you posted on the campaign. By the way, Joy Gendusa and I were both awarded the WE Magazine 100 women in E-Commerce!
Raj Oakley was very helpful and candid in his suggestions towards the direct marketing project I'm pursuing. I sincerely enjoyed speaking with him and plan on using your company if it fits my budget. I wanted to email you as a result of his impressive service. Oftentimes during our conversation he anticipated what I was hoping to cover and made appropriate recommendations regarding my questions
Jeff Esko, Esko Recovery Corporation

Like I always say.............. YOU ARE THE BEST!!!!!!!!!!!!!!!!!!!!
Wanda Zuege, Am I High Aviation LLC

Thank you Shannon. I am very pleased with the marketing program as it allows me to do other things with my time and know that the postcards are going out and the Direct Mail 2.0 is popping up. I have had many comments about "seeing me all the time" now.
Jeff Esko, Esko Recovery Corporation

THEY HAVE THE BEST REPRESENTATIVES. THE BEST PRICES!!!!!!!!!!!!!!!!!!!!!!!!!!!!!!! THE BEST SERVICE!!!!!!!!!!!!!!!!!!!!!!!!!!! MOST IMPORTANTLY, YOU WILL GET THE BEST RESULTS IF YOU JUST LISTEN TO THEIR VIDEO'S
Cathryn Hilliard, Construction Industry Force Account Council

Yes, Hamilton, I got them. I love talking to you because it's so easy to get things done. You're always so helpful. Please tell Joy I said so or give me her email so I can do it directly. Cathryn
Gary Dietz, Highlift Equipment

Susan, Just wanted to follow-up with you and let you know how wonderful the GIF you produced has worked for our company! You and PostcardMania are awesome and relentless in your pursuit to ensure customer satisfaction! We look forward to our continued business relationship!
Gabbriellea Frigo, Cali Dream Homes

everyone I've worked with has been amazing!
Ken Fasce, Bee Spider Free

Your company was such a pleasant relief to work with! I've been in business for over 20 years and deal with thousands of customers, phone calls, emails and businesses a year. It gets frustrating and exhausting. Postcardmania does it the right way. From the first email I received from Jody Gower, right down the line to everyone I dealt with along the way. I am beyond impressed with your operation. Customer service is exceptional, your communication with the customer is fantastic, support is out of this world, quality of work is amazing, and the overall program you have is incredible. I am a HUGE advocate of customer service and go above and beyond anything in my realm of possibility to ensure that. It is nice see there are others out there that do the same. I am anxiously awaiting the return on our direct mail campaign and hope the results are good. If it is a success we will be doing a lot more business with you. I would recommend your company to anyone! Big thanks and congrats to everyone in your company that I had the pleasure to work with.
Direct mail already works great for me. Why do I need the 2.0 version?
If direct mail is already working well for you, that is all the more reason to upgrade to 2.0! The other three facets that are included in 2.0 were specifically chosen because they enhance the return on investment from standard direct mail campaigns.
If direct mail hasn't worked for me in the past, will Direct Mail 2.0® make any difference?
Absolutely! Many times we find that "failed" direct mail campaigns are actually not failures, but misunderstood results. Most people look at the number of responses they get to judge the effectiveness of their campaigns. But the real way to judge success and failure is return on investment. If you make more than you spent – success! Call Tracking allows you to calculate this data very accurately. And when you do, you will probably find that your campaign was much more of a success than you thought! Plus, Mail Tracking and Online Follow-up Ads help boost the ROI.
Can I turn my current postcard campaign into a Direct Mail 2.0 campaign?
Heck yes! Just let your marketing consultant know and they'll do the rest!
Actual Results from a DirectMail2.0 Client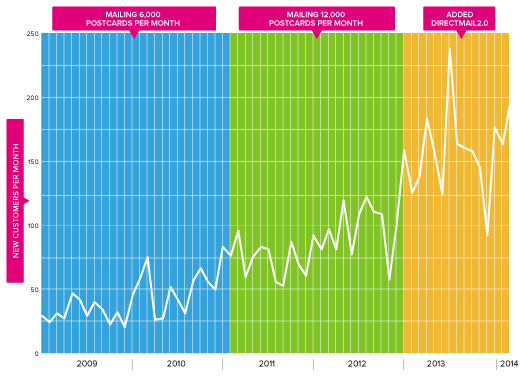 DirectMail2.0 is ridiculously inexpensive – just pennies per piece. However, since each campaign is tailored to your specific business, we need to have a quick chat with you about your business before giving you a quote, but don't worry – it's FREE! Just call 1-800-628-1804 to speak with a marketing consultant.
Give us a call for the best price on your campaign!
1-800-628-1804